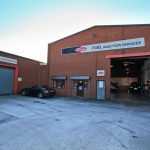 A DPF filter in Scarisbrick for diesel vehicles plays a very important role. The term DPF stands for diesel particulate filter. These filters are designed to remove unnecessary flecks of matter from a vehicle's exhaust line. As such, having a DPF filter and having one that is functioning well is crucial to the strength and vitality of the vehicle. A damaged or blocked filter can cause damage to the system or a breakdown. At Fuel Injection Services, as the North West's leading diesel specialist, we can assist you with your vehicle's DPF filter. We can also assist with any repairs or maintenance to your diesel vehicle.
If you are driving down the road and start to feel your diesel engine sputter or struggle in Scarisbrick, DPF filter problems may be the problem. It is vital that you get your vehicle to an experienced diesel specialist to have it analysed. We have over 50 years of experience in all diesel system repair. If you suspect there is a problem with your DPF filter, or if you need your vehicle looked at, bring it to us. Our experienced technicians will inspect the filter for blockages. A DPF will need to be emptied regularly, and this is done by a process called re-generation. This will involve burning the soot to gas at a very high temperature.
DPF filter in Scarisbrick should be treated with respect and care. After all, a vehicle carries more than just items. It carries people that matter. If you would like your vehicle's DPF filter cleaned, contact Fuel Injection Services. Not only can we help you with a DPF filter, we have the experience to assist with everything from repairs to MOT testing. We have the latest in diagnostic tools and our team is professional and experienced.  Trust our professionals to identify what your vehicle requires. We will have you back on the road in no time at all. Our prices are competitive and our service is second to none.