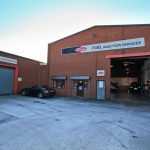 You might need to get a DPF cleaning in Southport if you've just noticed an orange light on your car's dashboard. DPF stands for diesel particulate filter, and it is part of the exhaust system of a vehicle with a diesel engine. The role of this part is to prevent excess environmental pollution, by filtering some of the harmful chemicals that result from diesel combustion. Vehicles have a system to clear the soot from the DPF when the filter starts to get clogged up. However, the system can sometimes fail, or work only partially, in which case the orange light turns on, announcing that it's time to visit the mechanic.
If you are in Southport, DPF cleaning can be handled by Fuel Injection Services. We have been in business since 1959, and have become a leading service provider for diesel powered vehicles. In 1992, we moved to our current location, and since then we've continued to invest in the best mechanics and equipment, in order to maintain our leading position. One of our company's main draws is our dedication to improving the fuel efficiency of diesel powered vehicles. Many of our clients rely on us to keep an eye out for any development that can lower their operating costs, and we like to think that we're not letting them down.
So stop by our garage for some DPF cleaning in Southport. It's very important to not let a clogged DPF get out of hand, since it can lead to complications. The soot within the DPF can build up over time to the point where the vehicle stops working altogether. In this case, the DPF is beyond saving and needs to be replaced, and the costs can go up to £1000 or more! Contact us today, and schedule an appointment if you are having problems with your DPF, and you'll be saving yourself a lot of money and a lot of time. Our service is fast and competitively priced.