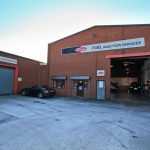 What are common rail fuel systems in Bolton, and why are they important? Common rail fuel systems are utilised by most modern diesel engines such TDi and CRDTi. Common rail is a reference to fuel system's high-pressure fuel rail. In all diesel engines, there are fuel injectors. They behave in a similar way to a pressure vessel; it stores fuel and supplies it to fuel injectors which will deliver the diesel to the engine. Common rail fuel systems must be checked and tested regularly ensure fuel efficiency and optimum performance. Diesel vehicle manufacturers are under pressure to create vehicles that improve economy and drivability and also meet strict fuel emissions regulations. Advances in common rail fuel systems and vehicle electronics have enabled vehicle manufacturers to meet these targets. Where can you take your vehicle to have your common rail fuel system checked?
If you live or work in Leyland, common rail fuel systems checking is provided by Fuel Injection Services. Our company has always been at the forefront of new technology and as a result, our staff is constantly receiving new training to keep them updated with these advances. This has helped us garner a reputation that is second to none! Our qualified team uses sophisticated diagnostic equipment tools to thoroughly examine your common rail fuel system to ensure that all the parts are working efficiently. Should we discover an issue and deem a part needs to be replaced, we will discuss this with you before proceeding any further. If you are in accordance, we will install only recommended replacement parts. At Fuel Injection Services, we provide a satisfaction guarantee behind all our work. Apart from common rail fuel systems, we also perform fuel pump repairs, common rail pump repairs, common rail injector repairs, turbo supply replacement, diesel diagnostics and vehicle servicing.
Keep your common rail fuel systems in Leyland functioning at an optimum level by opting for regular servicing. Contact Fuel Injection Services today if you have any questions, or need assistance with common rail fuel systems. You'll be glad you did!